Good Vibes Holistic Therapies
Angelic Energies Series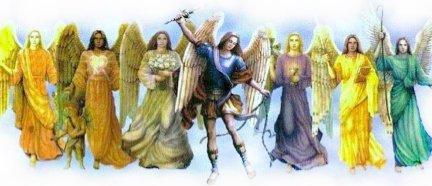 With Each Attunement Purchased You Will Receive:
One in-depth guide to the system
One attunement guide with lots of great ideas on how to best prepare yourself, including how to make your own Chi Balls!
You will receive all attunements sent by Chi Ball or 'real time' appointment
One emailed certificate
Your lineage
*Please note bookings for attunement sessions are 9am -5pm GMT Mon-Thurs. Please consult the World Clock for your time zone.

When you have made your choice from the attunements/empowerments listed below please email me for PayPal invoice
goodvibesgirl@live.com
GVHT Systems by Raine & Philip Hilton
Angelic Family Dynamic Oversoul Healing System
- £25
System originator- Raine Hilton
I have been tasked with sharing a system that I have worked with in many of my healing sessions over the years. The Angelic Team we will be working with are assigned to work with the Oversoul created by our family units. They help by restoring harmony, balance, love and respect to all families. The Angels work on an individual level with each family member and also with the collective family dynamic. This can be your immediate family: parents, siblings, partners etc, as well as those friends or colleagues you just somehow know at an intuitive level that you share a deep soul connection with. So when we speak of Earth Soul Family do feel free to add those who you know are outside of the standard family unit.

When life is running smoothly we all interconnect beautifully; loving and supporting one another, assisting in each otherís spiritual growth. But, when you throw human emotions and difficult circumstances into the mix things can quickly become very fraught as you are tied so intrinsically to each other at a deep emotional empathic level. So any Soul Family arguments may feel far more hurtful, wound you much more deeply, and be a greater struggle to heal and overcome.
If you feel you have become disconnected or estranged as a family, are tired of the constant tension, disagreements and misunderstandings, or just feel as if you have drifted apart, then this system may be of great help to you. This system also works with your Whole Family Oversoul, not just those of you who have incarnated at this time, so this includes strengthening the bond even with those who have passed over into the higher realms. Much wisdom and guidance travels down through our ancestral line, along with abilities and gifts of all kinds, especially spiritual ones which we can tap into and develop further.

Your Soul Family is the spiritual equivalent to your birth family here on earth. Some choose to remain in the Astral Realm to act as Guides for those of you down here. Others may take the form of a friend, teacher or relative here on earth, they could incarnate as anyone in your life. When you meet them you just know. You and your soul family share the same over-soul, so you are naturally drawn to one another throughout your many lifetimes.

From time to time we feel that we have become stuck in a particular area of our relationship with another, we cannot seem to move past it, and may have spent many lifetimes trying to. This system will help to reconnect all of those involved, and to bring through new energy and inspiration from all of your higher self aspects so that you can be open to new ways of resolving issues and bringing peace and harmony to yourselves as well as your family group on earth.
Not only will you be attuned to this system so that you can begin working on your own Family Soul Blueprint but I will also show you step by step how I incorporate it into my sessions so you can easily teach it to others as well as use it in sessions with your own clients. This system is recommended for advanced energy healers; it would be helpful to have previous experience working with Angelic Energy, Akashic Records and Shamanic Journeying and have good visualisation skills.

You will learn about:
Archangel Chamuel and the Family Dynamic Oversoul Angelic Team
Earth Soul Family Blueprints, Astral Soul Family Blueprints and Whole Family Oversoul Blueprints
Strengths and weaknesses of the family blueprints and how shared past lives affect this
Karmic agreements and cycles of behaviour
Your Family Dynamic Angelic Guide
Incorporating crystals into family healing
Preparing for a session & gathering elemental analysis information
Learning how to balance the positive and negative elements within your Earth Soul Family
Light of Divinity candle ritual for attunement and healing
Evocation of the Archangels
Retuning the Family Soul Blueprint
Incorporating other energy systems
Seeking the root cause of family imbalance from either this life time or a previous one
Attunement Procedure Ė working with your own Earth Soul Family Blueprint
Ending the session and after care

NEW Angelic Life Path Healing For Children - £25
Founder: Raine Hilton
Bring comfort and the healing power of Angels into your childís life to help them at every stage of their social and behavioural development. These Angels will work within the spectrum of three rays of light symbolising the three transformational stages of development from birth, to beginning primary school, through to their teen years and high school, preparing them for adulthood.
When a new soul incarnates into a tiny helpless body it has to learn to adapt to life on our earth plane, while coping with a whole range of human emotions, egocentricities and all the ups and downs that childhood brings. Some children are incarnating with knowledge of their celestial and starseed roots, and also past life and in between incarnation lifetime memories which adds extra pressure to their childhood in the first few years.
As a parent, family member or carer you can simply select the ray of healing for your child by focusing on their particular issue, and calling in and creating an orb of the relevant age ray of Angelic energy to assist them. The group of Angels within this ray will support and guide them during the day and will watch over them at night, often working with them in their dream time to help them resolve their issues.
Each ray will assist with the following development age related problems:
Pink Ray: ages 0-4 years
Birth difficulties, bonding issues, soul integration, problems falling and staying asleep, feeding and digestion problems, teething, separation anxiety, abandonment issues, bonding with carers, disturbed routine, unable to make friends, struggles in unfamiliar environments, Starseed and celestial integration, past life memories integration
Green Ray: ages 5-10 years
Starting school fears, abuse, mother or father issues, struggling to communicate, feeling excluded, loneliness, fear of the dark, bed wetting, night terrors, attention seeking, sibling rivalry, death of a loved one,
Blue Ray: ages 11-16 years
New school problems, Self development issues, hormonal imbalances, peer group pressure, social anxiety, depression, low self confidence, shyness and insecurities, learning difficulties, alcohol drug nicotine or gaming addictions, sexual identity issues, body self image issues, weight and diet related problems, trust issues, fear of failure, feeling invisible, pressure to perform, exam phobia, crushes and romantic relationships.
†
This team of Angels works within the Angelic Family Dynamic Oversoul Team. Whereas the main team works with the whole family dynamic on an individual and collective level, the Angelic Life Path Healing for Children team works specifically on child related issues.
This is a very simple to use and intuitive system. There are no complicated symbols or hand positions to use. Once the Angels from the correct Ray for your child are called upon they will know what to do to help them for their highest good. Learn about:
How each Angelic Colour Ray can assist your childís life path
Evocation of the Archangels for protection
Working with this energy
Childrenís Angelic Rainbow Heart Orb for coughs, colds and fevers, bumps bruises and accidents
Childrenís chakra development from birth to teen + problem solving suggestions
This attunement is also available as a healing session
†
†
Angelite Purification Sigil Connection Attunement - £20
System originator- Raine & Philip Hilton
I have worked with this systemís energy for many years; it began firstly as a spiritual technique taught to me by Archangel Michael to help me to bridge the gap between our physical realm and their Angelic realm. As you can imagine energetically there is a huge difference in the vibrational frequency of our physical world to that of the Angelic realm. By working with this energy system we have been able to build a resonance which is harmonious for both parties to meet in creating the perfect working environment for healing, guidance and channelling. I have been guided to bring this energy through in the form of a spiritual attunement. This technique combines two different aspects; the crystal Angelite and Angelic energy in the form of Sigils. This provides representations of the physical and the spiritual realms. Working with the Sigils of the Archangels imprints the signature of their energy into your auric field; this alone can often be enough to deter further attacks. You can then call on this energy to help you in many different ways, whenever you need support, guidance, protection or cleansing and healing.
These sigils have many uses;
To connect you more clearly to the Archangels
To aid in channelling
To enhance meditation
To invoke any of the individual Archangelís healing powers or energies.
To assist you with seeing the truth in a situation and helping you to seek guidance and justice for the highest good of all concerned
Protection from fear or psychic attack
Healing from Archangel Raphael
To protect you on a journey
To assist in personal or space clearing or cleansing
To create a protective circle for working magically or spiritually
Acts as a filter system for other attunements systems you may wish to call in or work with by cleaning up the lineage and removing any negative energy that they may have picked up on their way to you.
To sever cords/attachments after working magically or when healing others and also removing energetic traces of you*
* This is really important if you have come into contact with negative entities while healing another person or you have been working in a hostile environment as it prevents the entity from picking up on your energy signature and following you back and causing you problems.
Angelite is known to assist and attune the user to the angelic realm and to facilitate angelic contact. It provides powerful Angelic protection for yourself and your environment. Angelite also heightens perception and awareness, enhances telepathic communication and can in some cases enable out-of-body journeys to occur. It enhances astrological understanding Angelite helps you to communicate your truth in a way that is compassionate and accepting to those around you even if the circumstances are difficult ones and the recipients are not usually responsive. It helps you to accept that there are some situations and even people that cannot be changed. It alleviates psychological pain and promotes feelings of peace and tranquillity.
This 19 page manual will teach you about:
How meditation affects the physical, emotional, intellectual and spiritual aspects of us.
What are Sigils and how they can help us?
How to repel the effects of negative energy attacks and psychic vampirism
Angelite healing and spiritual properties
Instructions on how to make, program and work with your own Angel Sigil stones
Angelic communication; how to recognise and work with their energy
Unique channelled communication from Archangel Michael
Evocation of the Archangels for protection
Unique channelled ritual communication from Archangel Michael
Attunement procedure, after care, channelling and working with this energy